Versatile Rated Capacity Indicator / Limiter for Crane and Lifting Applications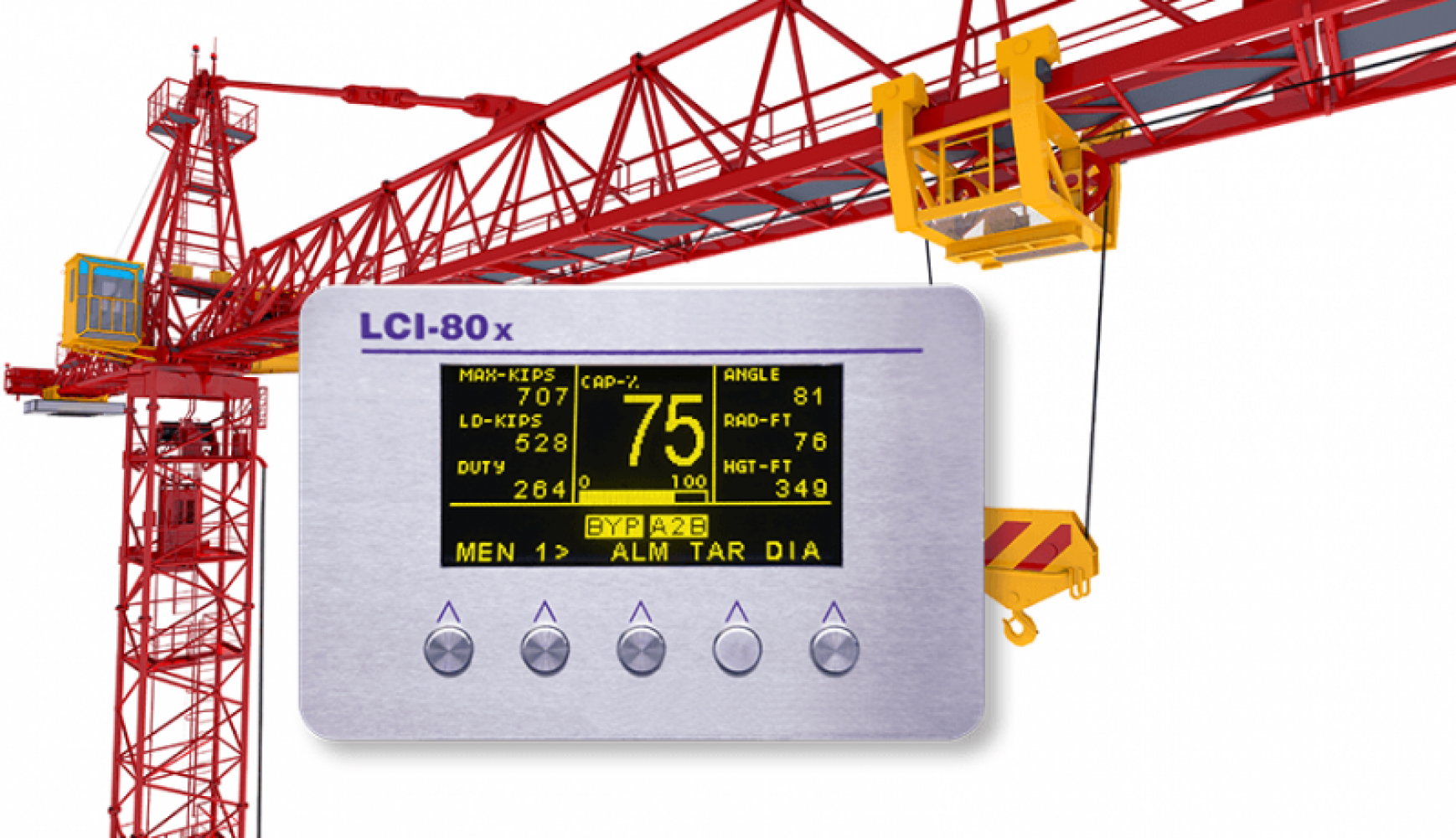 We are proud to present our latest technology, designed to accommodate all types of cranes working in the construction, material handling, and offshore industry.
The RPC-80x Crane SLI monitors key operational and safety parameters, provides alarms and shuts down the hoist at overload or unsafe conditions while recording cridical lift data. 
Featuring a bright electroluminescent (EL) display, the RPC-80x Crane Safe Load Indicator (SLI) provides viewability in all daylight or nighttime operations and unmatched ease of use.  The RPC-80x construction defeats competing indicators with a stainless steel front panel, sealed tactile pushbuttons, and an IP67 rating. Delivered as a complete system with sensors to monitor load, angle, hook height, wind speed and more, or delivered as an OEM display part for a crane/hoist manufacturer, the RPC-80x is economical and robust solution for crane load monitoring applications.  
Our approach is to allow the operator to view the most critical load information, without having to scan a complex and confusing screen or tablet.  The RPC-80x will monitor all sensor data, providing audible and visual warning alarms prior to entering an unsafe lifting scenario. Relays will shut down the crane and prevent overloads, out of radius events, and other errors from occurring.  
LCI-80x SLI, single screen view

Features:

Multiple sensor options for tension, boom radius, angle, anti-two block, windspeed, and other parameters
Open architecture allows use of virtually any analog or digital sensor
Visual and audible warnings linked to adjustable setpoint parameters
Bar graph indicating live load percentage of rated capacity
Built in data-logging and uploading of information from USB thumb drive
Ability to save and recall lift records and configurations
No special tools required for calibration, all features available from the menu
Main/Aux hoist (winch), duty, and lines (falls) all selectable via on screen menus

Easy to use, high visibility display, puts the right information at the operators fingertips

Main Screen features:

Current load
Max capacity
Load percentage (numeric or graph)
Boom angle
Boom radius
Load chart title

Optional features (viewable on main screen, secondary screen, or via menu):

Boom length
Parts-of-line
Load chart details
Azimuth (slew)
High and low presets
Tip height
Wind speed
Sensor Calibration

Configurable Alarm parameters:

Max wind speed
Min/max angle
Min/max radius
Min/max load
Max rated load moment
Approaching two-block
Min/max tip height

Typical main screen view

Typical crane system features RPC-80x controller, systems box,  load, angle, wind, and A2B sensors

RPC-80x in stainless steel gimbal bracket enclosure, dual screen view

 
 
OEM APPROACH
Rugged Controls aims to offer the highest quality instrumentation, automation, and machinery to our customers. We treat every application with the utmost care and the understanding that our equipment is used to control lifting and material handling systems in the worlds harshest environments.  We are committed to exceeding our customer's expectations for product quality and performance, timely delivery, and continuous improvement of our products, processes, and support tools.  Since the early days of our company, we have partnered with leading equipment manufacturers to be their in-house automation provider. It is our priority to offer skilled service and support, and to assist you and your customers by providing the best total package value in the instrumentation sector.
INTEGRATION WITH THE CRANE
Complete RPC-80x display systems by adding optional sensors for additional parameter monitoring and safety functions. PLC, engine data, camera images, HPU pressure, smart valves and more can be integrated with our system to minimize system cost and maximize features.  We use MODBUS as a generic comms scheme to integrate with remote displays, data acquisition systems, sensors, and PLCs. In-dash or panel mount systems are available for easy integration with the operators controls.
GENERIC WIRING DIAGRAM

Generic Wiring Diagram - many other configurations available
RPC-80x INSTRUMENT SPECIFICATIONS